Minimalist Fall Decor Ideas
Share this
Some people love to decorate seasonally, and fall (or autumn as known in the UK) is one of the most popular seasons, staying inside a cozy home with a vibrant orange color palette, leaves decor, and a pumpkin spice scent to make you feel good.
It probably implies having too much stuff for minimalists, and they don't want to compromise their time changing decor or buying seasonal stuff. It is entirely understandable, but there is a way to create an uncluttered decoration without breaking a sweat or the bank.
Learning some of these ideas will be a useful guide for decorating all year seasonally round, not just for fall, these are some great ideas for the upcoming season on the Northern hemisphere. Check out this beautiful decor pieces that will blend in naturally with most minimalist styles.
Rose Flower and Vine Wreath by Adeeing
I prefer natural flowers and plants, but for seasonal decor, artificial ones are ok (remember to dust them once a week), this wreath is a modern twist to the classic orange, red and gold fall wreath.
The stylish piece measures 15 inches and artificial light pink roses and dark green leaves, a soft and moody decor ideal for beautiful fall decor.
This wreath is also perfect for spring, so you got two seasons covered with this piece.
Velvet Pumpkins by Your Heart's Content
A lovely twist on a classic fall decor changes the orange pumpkins for this elegant and modern ones.
Pumpkin handmade set crafted with gray, ivory, taupe velvet, they will give a luxurious vibe to any room, a quality crafted product that has been featured in Elle Decor and the Huffington Post.
Not sold initially as fall decor, it can work as one, the golden moon phases garland is elegant and versatile for any season or decoration (just like the picture above, a gorgeous decoration to hang over a bed).
It measures 36 inches, and it includes 13 moon metal hammered hanging pieces. It will cover a medium wall, a perfect fit for a minimalist, bohemian, or modern decor).
Flameless Timer Candles by LED Lytes
Want a warm and cozy vibe in your room? Use this LED flameless candles, ideal for homes with kids and pets, and these modern decorative candles can stay in your center table until winter because the silver and golden tones work for both fall and winter.
They have a 5-hour timer or toggle the on/off when you desire, keep in mind these are decorative lights so don't expect them to brighten a room, they will give a cozy feel.
Luxury Throw Blanket by Peshtemania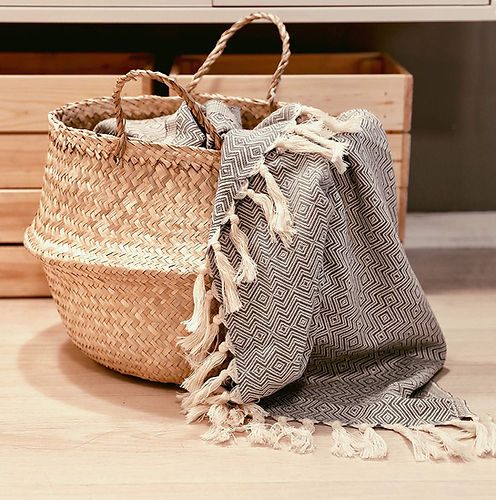 A cozy living room or bedroom is not complete without a warm throw blanket to relax while reading a book or to watch a movie with a friend or loved one.
These boho-inspired designs are made with 100% cotton in Turkey and measure 40 x 71 Inches, perfect for a couch. The geometric pattern goes well with most black and white fall decor styles, including bohemian vernacular, rustic, modern or elegant.
Natural Dried Cotton by GTIDEA
Want some farmhouse charm? Then cotton flowers are a beautiful harvest season theme to welcome fall, plus the white will mix perfectly fine with minimalist decor.
The flower balls are real cotton balls, the long stems are bendable, and each one measures 22.8 inches or 58 cm, so you can either place them on a decorative vase or bend them to DIY wreaths or center tables. An ideal choice for white fall decor for a rustic, farmhouse, or minimalist styles.
Succulent Garden by Hallmark Flowers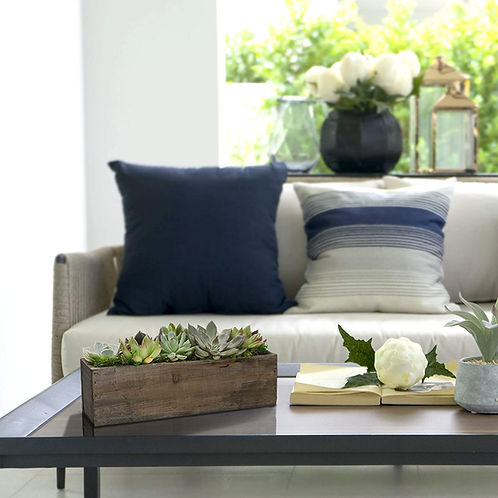 This plant is a minimalist favorite regardless of the season, they are beautiful and require little water unlike most plants and can decorate your home for fall and upcoming seasons.
This mini garden includes 7 to 8 one inch succulents (the colors vary), and they are presented in a rustic wooden ten-inch container.
You don't have to spend a lot of money on seasonal decor and if you choose the right pieces, they will last you for many years and might be your only purchase, so try to find timeless looking pieces in neutral colors they will match any room and style.
What do you think of these finds? Start decorating for the upcoming season and create a perfect cozy minimalist decor to spend your afternoons with a warm pumpkin latte and your favorite book.
Here are some other Minimalist Lifestyle posts you might find interesting.
10 Off The Wall Minimalist Art Pieces
30 Minimalist Living Room Ideas
6 Interior Plants For A Minimalist Home
If you enjoy this content, don't forget to like and share it and subscribe to my blog at the footer of the page for updates and new blog posts.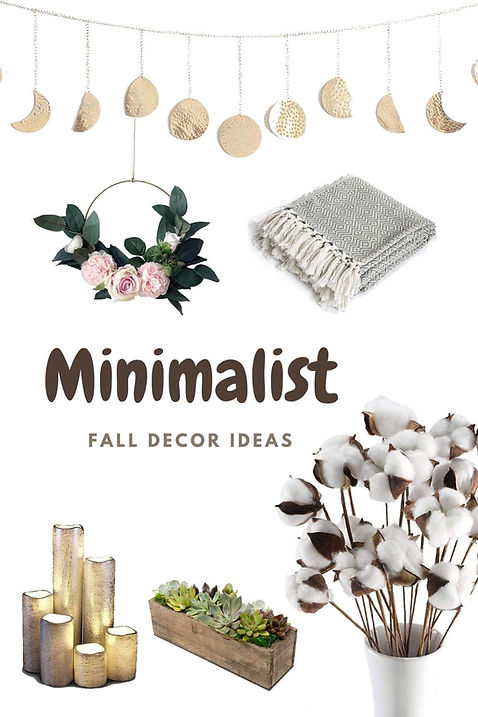 This post contains an affiliate link(s). As an affiliate, I may earn a small advertising /referral fee if you make a purchase through my link, without any extra cost to you, and it helps keep this small blog afloat. Thanks so much for your support!